Nick Jennings Memorial Scholarship Fund
The Nicholas Jennings Memorial Fund was setup in honor of Nicholas Jennings, a member of the Hollis Brookline High School Class of 2007.  Nick passed away in November of 2004, as a result of an automobile accident.  Nick had a special charisma that enabled him to bring a smile to everyone's face while always having one on his own.
Nick lived each day to the fullest and believed the way to do that was simply to have fun.  His love for athletics didn't end on the football or lacrosse fields, teams that he personally participated on.  He was also very involved in all other athletic teams through his school spirit.  His charisma showed through his artwork, improvisational and musical abilities.
This scholarship will not necessarily be awarded to a student with outstanding scholastic achievements, but to a student who is trying to further his/her education and gain personal growth through sports and other educational activities.
Since 2005, this memorial ride has achieved tremendous growth and with your continued support we want to be able to continue to extend the scholarships to surrounding towns. We would like to thank all of our family, friends and sponsors for making these scholarships available to future generations.
Nick Jennings
Nick was outgoing in every way.  He was an amazing athlete and enjoyed doing anything outdoors. …….
Past Fundraising Events
Here are some photos from past scholarship fundraising events.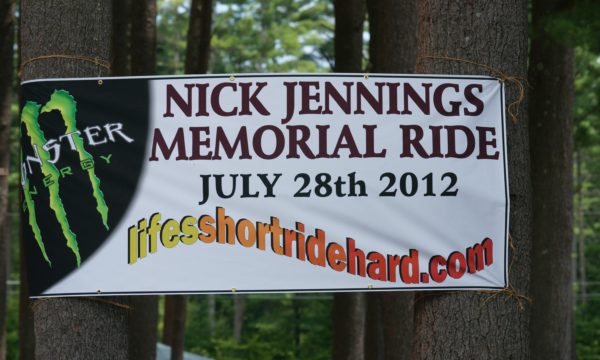 About Nick
This needs to be a story about Nick.  His personality, his interests, and who he was as a person.